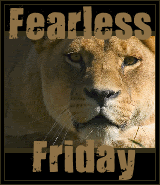 "They do not fear bad news; they confidently trust the Lord to care for them. They are confident and fearless and can face their foes triumphantly."

~ Psalm 112:7-8 NLT
Welcome to Fearless Fridays!
A day where I commit to pray for you.
I have join
Angela
of Free Spirit Haven and other precious prayer warriors that have also committed to pray for you, your families and friends.
To participate in Fearless Fridays please leave a comment sharing your prayer request.
You don't have to list details.
Pray for God's will alone to be done in our lives.
God knows all the details.
God knows all of our needs.
So... when I ask for your prayers I believe that God will answer them.
"Dear children! God gave you the grace to live and to defend all the good that is in you and around you, and to inspire others to be better and holier; but Satan, too, does not sleep and through modernism diverts you and leads you to his way. Therefore, little children, in the love for my Immaculate Heart, love God above everything and live His commandments. In this way, your life will have meaning and peace will rule on earth. Thank you for having responded to my call. "
BVM May 25, 2010
May the Sacred Heart of Jesus hold you close to his heart today and always.